On this site I'll include everything I can about my band, including a recordings list, news and gossip, photos, show reviews, and more.
There has been music in my family all my life. My Uncle Junior is a whiz and my daddy, Fred Moore loves to play and sing. I had a cousin, Fiddlin' Bill Moore that was popular around our area. For the past few years I have been studying under Bill & Wilma Millsaps, who have been in the music business since ages before I was born.

I turned 13 years old on June 11, 2001 and I cut my first recording session on July 6, 2001. I'm doing what I love and hope to have a successful career in music.

We like to go sailing and my other hobbies are horses and other animals. I have a house puppy "Cheyenne." Outside I have plenty of cats and dogs, including: "Chico", "Sara", "Foxy", "Little Feller", "Chocolate" and the list goes on. I am home-schooled by my mother, Doris Moore.

I have a CD, "Gal Who's Always Happy" that I hope you'll buy. If you can't find it in a music store, e-mail my daddy and we'll help you find one, or I can send you one. They are $15 plus $3 S&H. It is also on cassette tape for $10 plus $3 S&H.


Click to hear Bringing in the Georgia Mail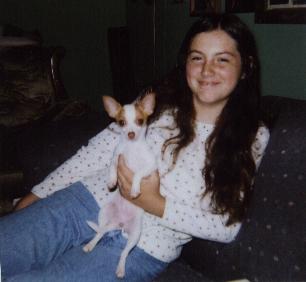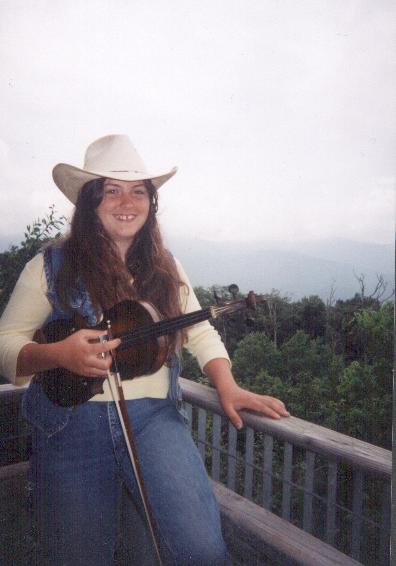 Above is the pose we chose for my new CD cover. It was taken by Wilma Millsaps at a place called Spirit Ridge, on the Cherohala Skyway between Robbinsville, NC and Tellico Plains, TN. At the left is me with my dog, Cheyenne.